You can optimize your landing page for SEO using options available in our editor.
In this article, you will learn how to configure options impacting SEO.
Title, keywords, description, and meta tags
Add title, keywords, description, and meta tags on your landing page
1. Log in to your Fit Funnels account and go to the editor of your landing page.
2. In the upper right corner, navigate to the Page Settings, click on Additional options and go to the SEO tab.

3. Configure options that affect the visibility of your landing page in search engines:
(1) Title, keywords, and description
The title is displayed in search engine results and the browser tab.
Keywords briefly summarize the content of the entire landing page and help crawlers find relevant websites that match users' queries. Separate keywords with commas.
The description is a longer text that will appear in the search engine results

below

your landing page title.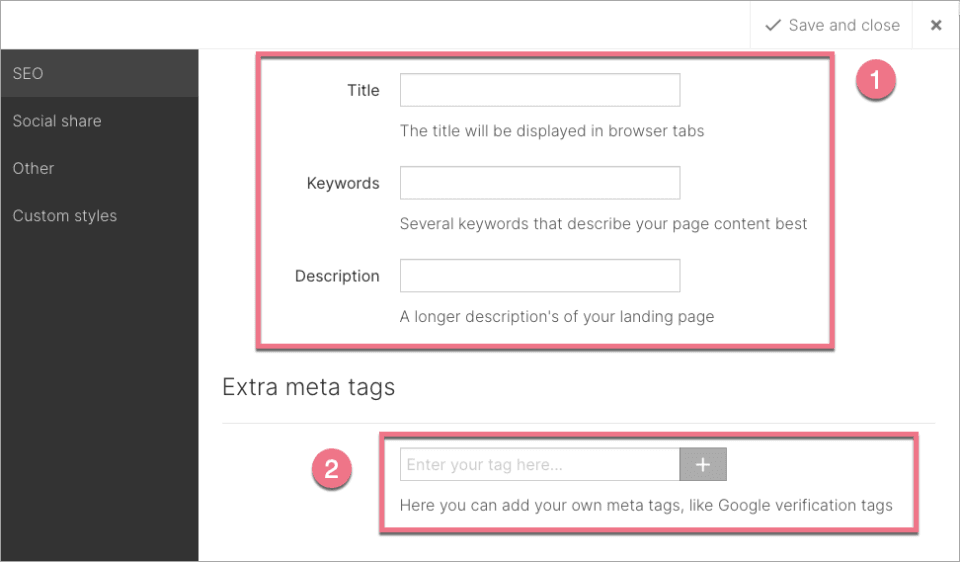 (2) Additional meta tags
Meta tags contain useful information about the content of your landing page and support your marketing activity. Some meta tags have a significant impact on how your page ranks in search results.
Optionally, you can add your own meta tags to your landing page that are necessary when you need to verify your page:
Don't forget to Save and close.
Alt and title attributes of images
When uploading images to the image gallery, make sure that the file names match what the images represent, e.g., Photo_name_service(company).jpg
Add alt and title attributes to your images uploaded to the gallery
1. Go to the editor of your landing page, double-click on the image to go to its Settings, and navigate to the Settings tab.
2. Add alt and title attributes:
Title (title attribute) – a text that appears when you hover the mouse over the

image

(1).
Alternative text (alt attribute) – a text that will be displayed if the image cannot be loaded for some reason (2).
Save and close.

Both file names and alt attributes should contain keywords.

Images uploaded to the gallery are automatically optimized for display on websites. We recommend uploading images with a size of approx. 150kB and a maximum resolution of 1920 × 1080 px (for background images).

Headlines in landing page sections

Every landing page section should contain unique headlines, especially the main headline marked by the H1 tag. Do not duplicate the same headlines in the following sections and add keywords if possible.

Add a headline tag

1. Go to the editor of your landing page. Select the text widget you want to tag.

2. In the widget options in the toolbar, choose the tag H1, H2 or other.