---
What Is Your Contact Center
---
Your contact center is your command and control center for your leads and clients. It's where you can perform hundreds of actions with the click of a mouse, saving you hours every day and keeping your clients happy.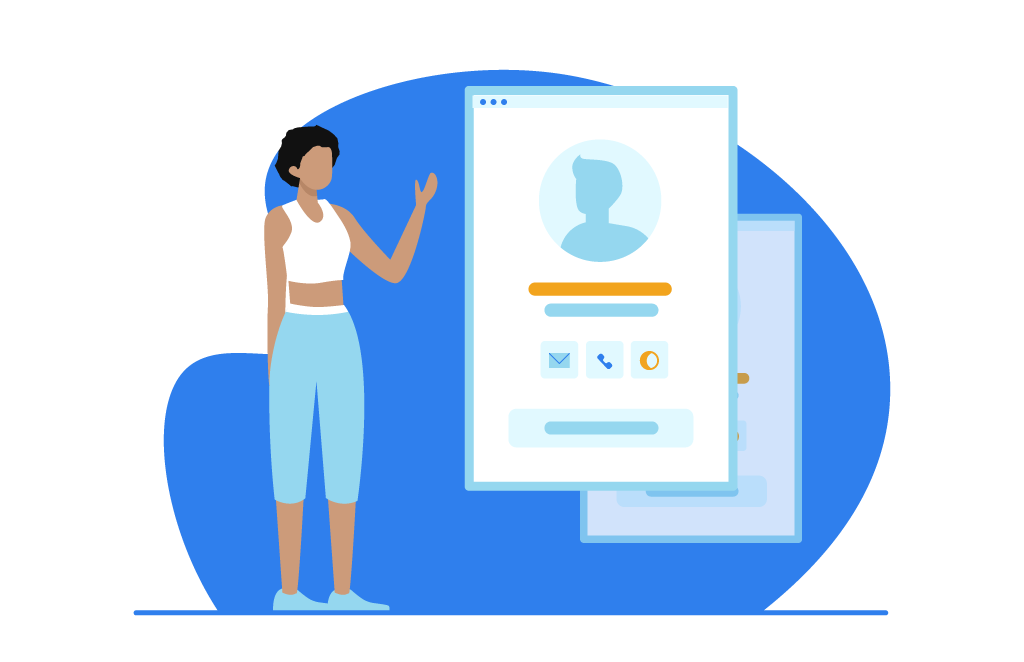 ---
Quick Training Links
---
---
Common Use Cases For Your Contact Center
---
Keeping up with new leads
Sending items to your clients' portals
Sending canned messages
Assigning materials
Segmenting your contacts for marketing
Segmenting your contacts for program delivery
Performing bulk actions on up to 500 contacts at a time
Performing single actions on any contact with one click
---
Contact Center Overview
---
Your contact center is an initiative dashboard where you have complete control over your contact actions. This sort of granular control, coupled with powerful automation, gives you the edge as a coach.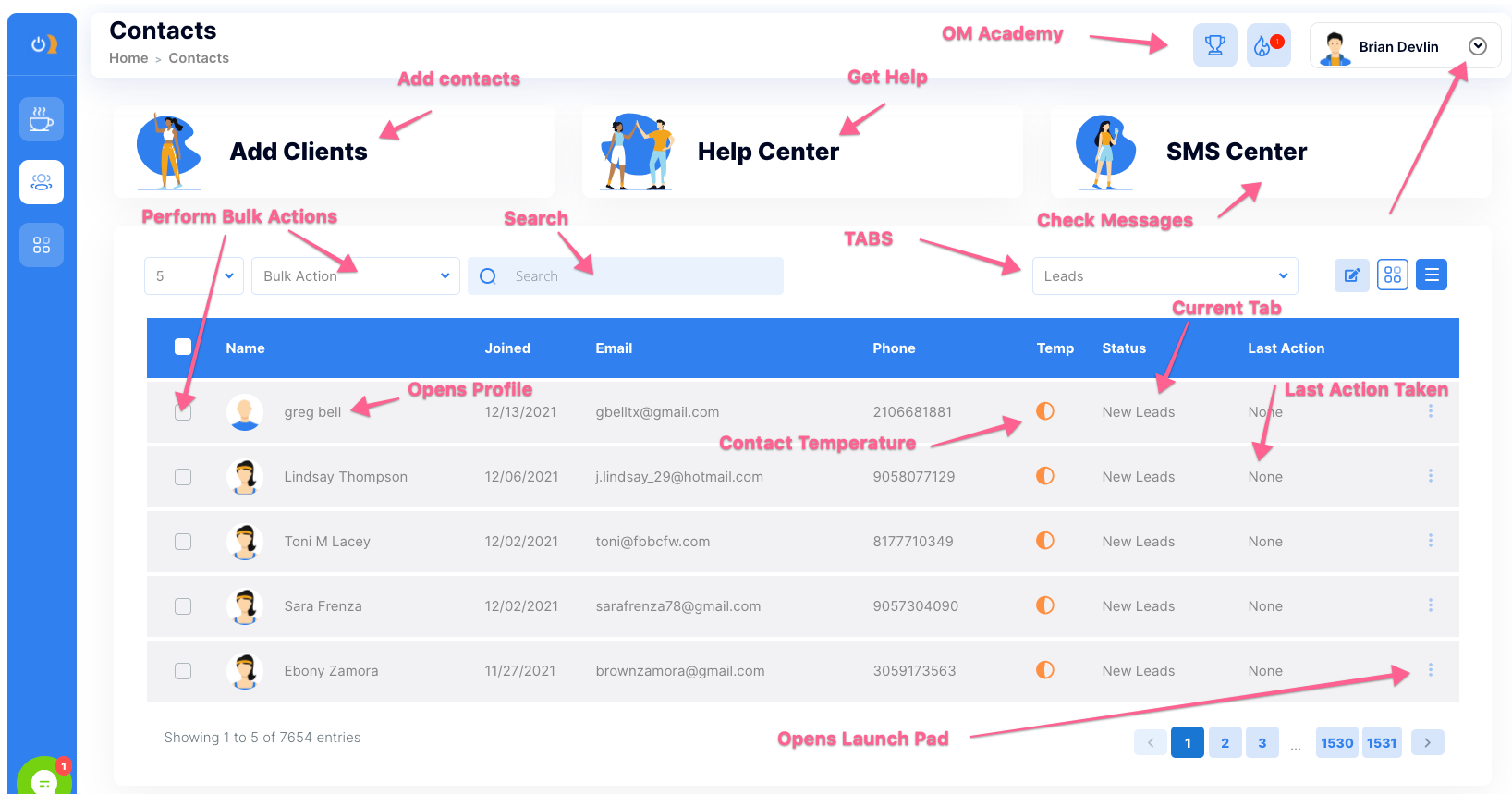 ---
Adding Contacts
---
We make it very easy to add contacts to Onboard Me. You have 3 options when it comes to getting contacts into your account:
1. Add a contact manually
Select this option and enter your contact details
2. Sync your account with another platform's API
We have direct integrations with the APIs of these apps (Mindbody does charge a fee, which we pass on to you).
Mindbody - Select and follow the instructions and set up your payment.
Zen Planner - Select and import your Zen contacts then sync your account.
3. Import your contacts using our super easy CSV wizard
Note: It is very important to follow the directions when importing your lists. We have a very strict No Spam rule. Only accept lists that you have permission to contact.
---
Help Center
---
Getting help is a 24/7/365 piece of cake. Here are all the ways we can help:
Our extensive knowledge base for manual searches
Go to https://help.onboardme.io and check out our detailed support articles. Each article is loaded with images, GIFS, and quick training menus that take you to a specific area you wish to learn about.
Our Support Bot
This thing is amazing. Open support chat and type the name of the feature you wish to learn about or the feature you need support with. For example: if you need help with playbooks, type "Playbooks" or "Playbook" into the chatbox. This will trigger the Playbooks bot and get you the answers you need FAST!
Live Chat
If the support bot can't help you, we have Live Chat that usually responds within an hour to get you the help you need. About 95% of all questions we get can be solved with our knowledge base and support bot, but if more help is needed, our live chat hours are M-F (9-5 Eastern time, USA).
And the Famous OM Academy
If you really want to scale your business and you want a coach to help you do just that, sign up for OM Academy. Within 14 days you can have 6 completely automated systems working in your business:
Lead Getting Funnel
Follow Up and Prequalification Pipeline
Call Booking System
Content Marketing System
Program Delivery System
Payment Processing System
---
SMS Center
---
Our SMS center offers one-touch 2-way texting and scheduled communications with all your contacts. Check out our SMS center training HERE.
---
Contact Dashboard
---
Your contact dashboard offers 2 ways to view your contacts: list view or grid view. In the list view, you can see easily see all the details of your client at a glance.
Full Name
Profile
Joined Date
Email
Phone
Temperature
Current Tab
Last Action
And more
---
Contact Tabs
---
Contact tabs are similar to stages on a pipeline. We have default tabs, but you can configure these to your desire. It is recommended that when you import your contacts you also segment them into these tabs. For instance, you would import all your leads into the leads tab then move them using bulk action > contacts > switch tabs to the desired tab.
Do this for all your lists.
Our default tabs are as follows:
Leads
Made Contact
Prequalified
Appointment Booked
Appointment Showed
Offer Made
Trials
Active Trial
Inactive Trial
Clients
Active Client
Inactive Client
Staff
Active Staff
Inactive Staff
Vendors
Lost
The lost tab is where you should move new leads that have not responded to any attempts at follow-up (for another offering, a gift, or a reactivation campaign).
---
Dashboard Views
---
In your dashboard, you have the option to see your contacts in a list view or a grid view. We recommend keeping your dashboard in list view if you have more than 100 contacts. The grid view can create scroll issues with larger lists.
The list view is also required for effective bulk actions with larger contact lists.
---
Contact Filters
---
At the top of your contact table in list view, you can click on the names of the table header and this will open up a filter.
You can filter the following data points:
Name
Joined date
Email
Phone
Temperature
Status
The last action that was taken by the contact
Each filter has subfilters like:
Starts with
Ends with
Contains
Using these subfilters you can quickly find what you are looking for.
---
Bulk Action Menu
---
Bulk actions can set you free! Imagine being able to take 4 different actions with 400 people in 2 minutes. With bulk actions, you can do this. In fact, you can complete 38 different tasks with up to 500 people at a time!
Send a reactivation campaign to one group. Invite another group to a workshop that night. Add another group to an upcoming challenge playbook and send an important form that needs to fill out to a fourth group. You can do all of this through text message, email, or both!
That is the power of bulk actions. Here is a comprehensive list of bulk actions you can take with leads, clients, and staff in just minutes:
Contacts
Change the gender of a contact
Switch tabs a contact are in
Delete a contact
Update the country code of a contact's phone number
Merge a contact with another
Move contacts to different locations
Celebrate a contact's birthday
Deactivate a contact's birthday celebration
SMS
Send SMS to a contact
Enable SMS sending to a contact
Disable SMS sending to a contact
Tags
Add a tag to a contact
Remove tag from a contact
Email
Send an email to a contact
Disable email sending to a contact
Enable email sending to a contact
Request confirmation that it is ok to contact a contact
Disable confirmation that it is ok to contact a contact
Validate an invalid contact email
Pipelines
Add contacts to a pipeline
Remove contacts from a pipeline
Sequences
Start a contact on a sequence
Stop a sequence for a contact
Journeys
Terminate a journey for a contact
Playbooks
Assign a playbook to a contact
Restrict a contact's access to a playbook
Templates
Send a contact a saved message template
Forms
Send a form to a contact
Restrict a contact's access to a form
Pages
Send a page to a contact
Restrict a contact's access to a page
Files
Add a file to a clients portal and control permissions
Progress Tracking
Start a contact on a progress tracking scenario
Stop a client from continuing a progress scenario
Habit Tracking
Start a contact on a habit tracking scenario
Stop a client from continuing a habit tracking scenario
Tasks
Start a contact on a task scenario
Stop a contact from continuing a task scenario
---
LaunchPad™
---
The LaunchPad™ is a very special feature that is exclusive to our software. It gives you total control (at a granular level) of everything your contact can see, learn, access, and every message your contact receives.
It is made up of 3 specific areas:
Actions
Settings
Advanced
In the actions area, you are given access to two special toolsets: Connection tools and Transformation tools. Connections tools allow you to connect with your contacts easily. Transformation tools allow you to transform the lives of your contact through knowledge transfer.
Here are how your tools are laid out:
1. Actions
Connection tools
Send a text message to the contact
Send a one-off email to the contact
Send a pre-saved email or text message to the contact
Transformation tools
Assign a playbook (online mini-course) to the contact
Send the contact to a page that offers value, like a great recipe or workout
Send contacts forms that will enrich their lives or help you transform their's (like a goal setting form)
Add files to client portals that might help them over sticking points, like an intermittent fasting checklist
Add reward points to contacts, that they can use in exchange for cash or services at your business or online store
2. Settings
In the settings area, you can toggle on and off valuable contact settings like:
Is it ok to email them?
Is it ok to text them?
Is it ok to celebrate their birthdays? (some people get grumpy on their b-days)
What is their Member ID?
Update Member ID to a custom value
Edit their contact details
And more
3. Advanced
Advanced tools are just that. They are advanced tracking or asset delivery tools you can use to keep tabs on your contacts or help them on their journey with you
Advanced tools include:
Active playbooks they are assigned to
Active forms available to them
Active pages they have access to
Active Pipelines they are in
Active Journeys that are running on them
Active progress scenarios they are enrolled in
Active habit scenarios they are enrolled in
Active tags that are attached to their profile
With all these tools and information available to you with one click, you can see how client transformation and streamlining your business just became an intuitive walk in the park!
---
Contact Profile
---
The other major feature linked to your contact dashboard is your contact profile, containing deeper analytics and more advanced information you can see about your contact. Let's dive into what you can see.
To access a client's profile just click the client name within list view.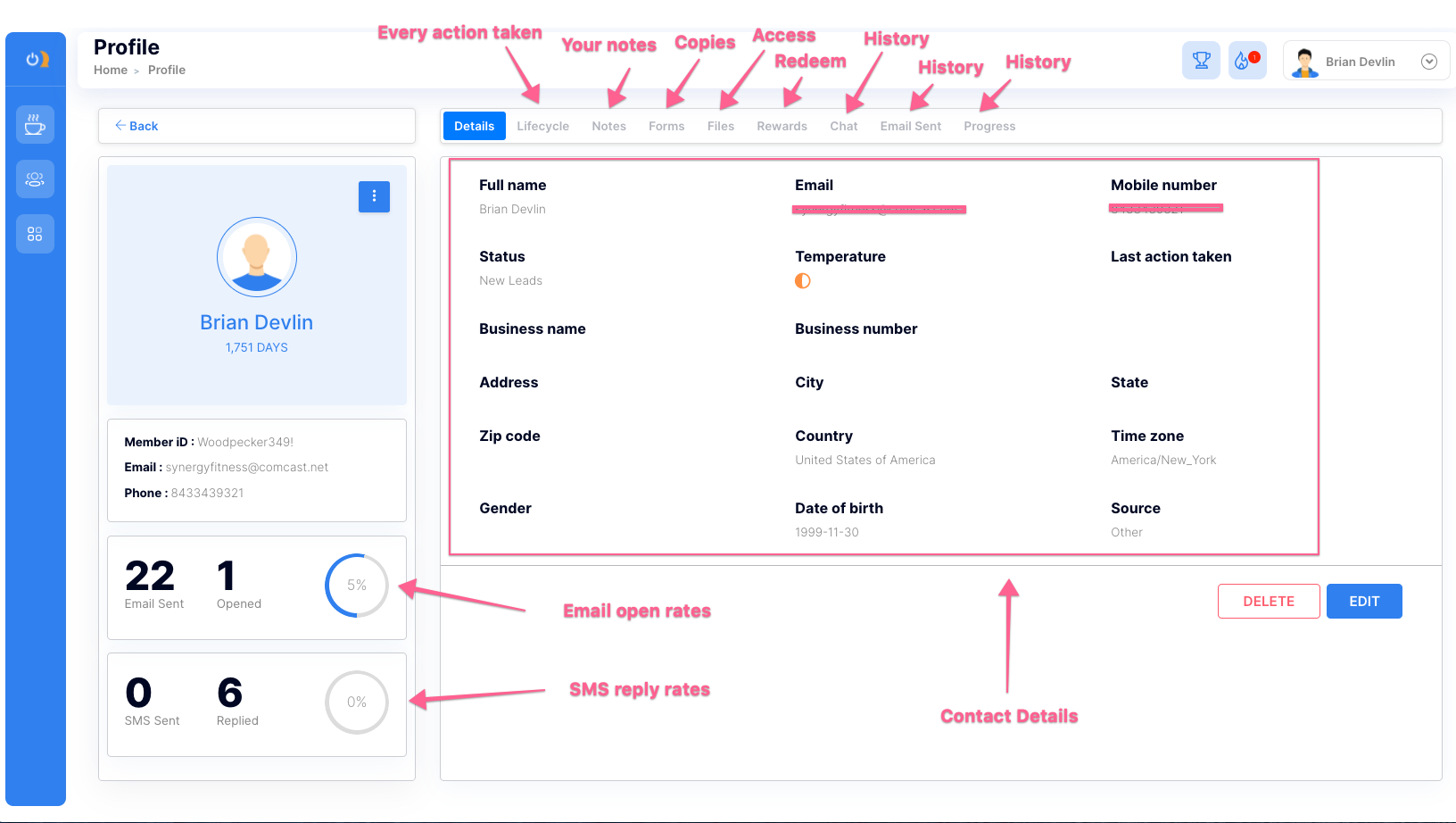 ---