In FitFunnels , you can publish your landing page to your own subdomain. A free Let's Encrypt SSL certificate will be automatically added for every correctly installed subdomain.
---
This guide will show you how to set up a domain registered with Shopify.
Access the DNS management zone in Shopify
1. Log in to your account in the Shopify platform.
2. In the menu on the left, find the Settings tab.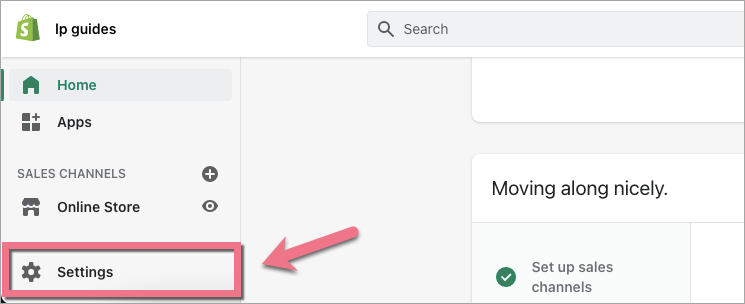 3. Scroll down and go to the Domains tab.
4. Click Manage for the domain that you want to configure.
5. Click DNS Settings.
6. If you do not have the DNS record, click Add custom record, and then select the record type that you want to add. Otherwise, click Actions and Edit for the record that you want to change.
Set up the DNS records


Now you need to configure the DNS records, select the type of your subdomain.
I'm setting up a www subdomain
I'm setting up a subdomain other than www
Finish the configuration in FitFunnels
When you're ready, go back to FitFunnels and click on Confirm/Finish.
Once you've added the subdomain to your account, our system will verify whether the DNS redirections have been done correctly. During this time, an hourglass icon will be visible next to the domain with the information that the domain is being verified. Usually, the domain will be active a few hours after adding it, but the total waiting time depends on the number of domains in our system waiting in the queue to install the certificate. We will email you when the domain is installed correctly.
A green globe icon indicates an active domain. You can assign it to your landing page.
In some cases, you have to wait between 1 and 24 hours for the records to propagate.
Note
– If you redirect the root domain on which your store is located to the FitFunnels servers, then the current page will stop displaying.
– You can check the exact way of adding subdomains in the Shopify platform here.